Lighting - Fiber-optic-illuminator
Fiber optic light sources can be utilized in Machine Vision Applications due to a wide array of illumination features. Our breakthrough performance Fiber Illuminators boast long life, lower power consumption, and immunity to a variety of rugged conditions. Each fiber optic light illuminator is customizable to include strobing options and stable output for any application. These LED Light Sources are optimum for replacing halogen or metal halide light sources.


Our microscope lighting offers a lower intersity fiber illuminator, ideal for Machine Vision, microscope, endoscope, and fiber lighting applications. These illuminators are an efficiënt replacement for current halogen bulbs. MetaBright™ LED engine features a remarkable operating efficiency, minimum heat generation and an easily replaceable modular design to protect against LED source obsolescence. For more information and advice please contact us through an inquiry.
APPLICATIONS

Machine Vision;
Fiber optics;
Microscopy;
Endoscopy;
Spotlight Source;
Fiber Backlighting;
Archtectural Fiber Lighting;
Light Sourcing in presence of Eddy Currents.

FEATURES

Low power;
High intensity;
Small spotlight source;
Through-the-camera-lens illumination;
Ideal for Machine Vision applications with limited space.


Read less more ...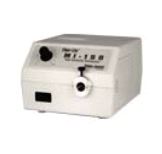 MI-150R
150 Watt, 115 VAC, 60Hz, EKE Lamp, 0.590 ID nose piece (B), Remote Intensity Control w/ 7 ft. cord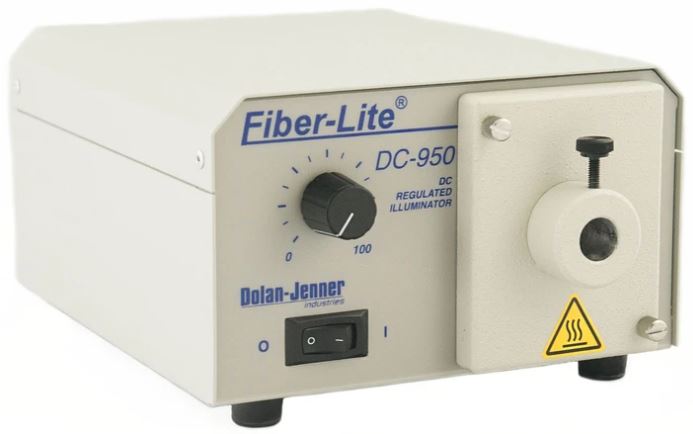 DC950H
High Output, 150 Watt, regulated output, Universal VAC input auto-ranging, 50/60 Hz, EKE Lamp, 0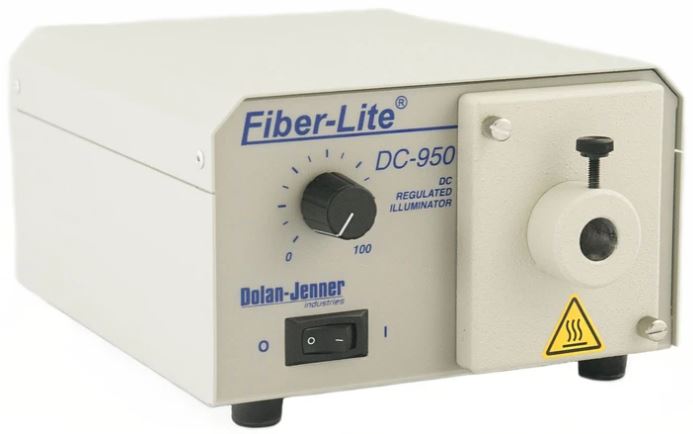 DC950HB
High Output, 150 Watt, regulated output, universal VAC input auto-ranging, 50/60 Hz, EKE Lamp, 0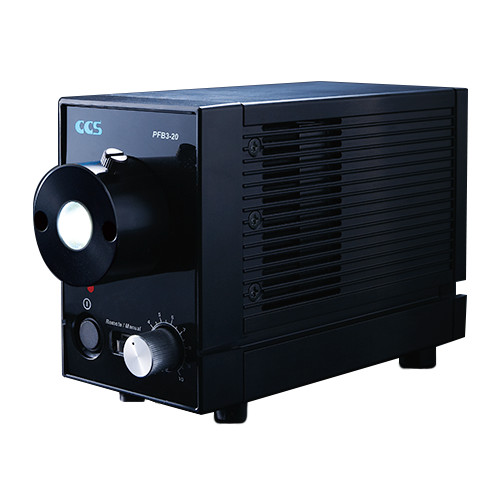 PFB3-20SW-F-SJT-NP(A)
Light Source Unit, White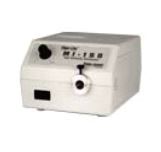 MI-1501R
151 Watt, 230 VAC, 50Hz, EKE Lamp, 0.590 ID nose piece (B), Remote Intensity Control w/ 7 ft. cord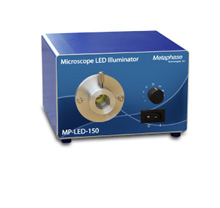 MP-LED-150-B
LED FIBER ILLUMINATOR Blue, 24VDC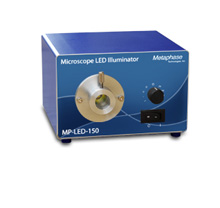 MP-LED-150-G
LED FIBER ILLUMINATOR Green, 24VDC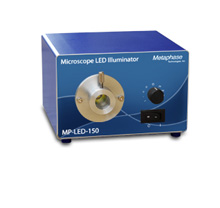 MP-LED-150-R
LED FIBER ILLUMINATOR Red, 24VDC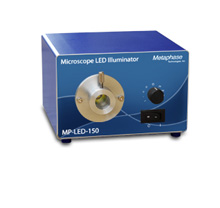 MP-LED-150-IR
LED FIBER ILLUMINATOR Infra-Red (850nm), 24VDC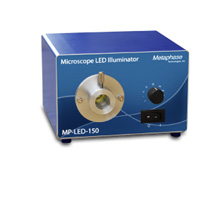 MP-LED-150-W
LED FIBER ILLUMINATOR White, 24VDC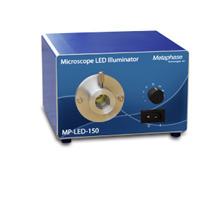 MP-LED-150-W-SS3
LED FIBER ILLUMINATOR White, 24VDC, SS3 NOSE .593IN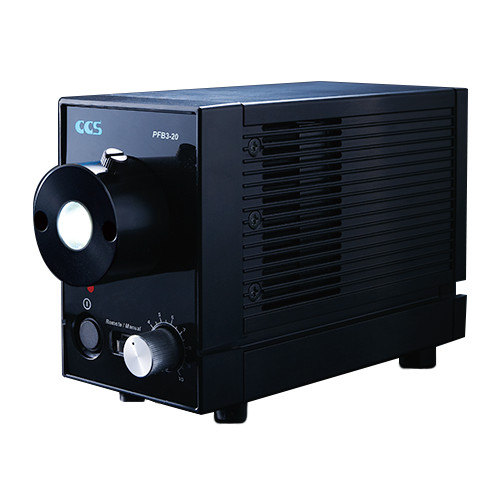 PFB3-20SW-F-SJT-SH2(A)
Light Source Unit, White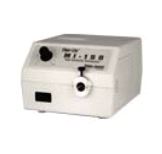 MI-150T
150 Watt, 115 VAC, 60Hz, EKE Lamp, 0.590 ID nose piece (B), Remote Intensity Control w/ 12 ft. c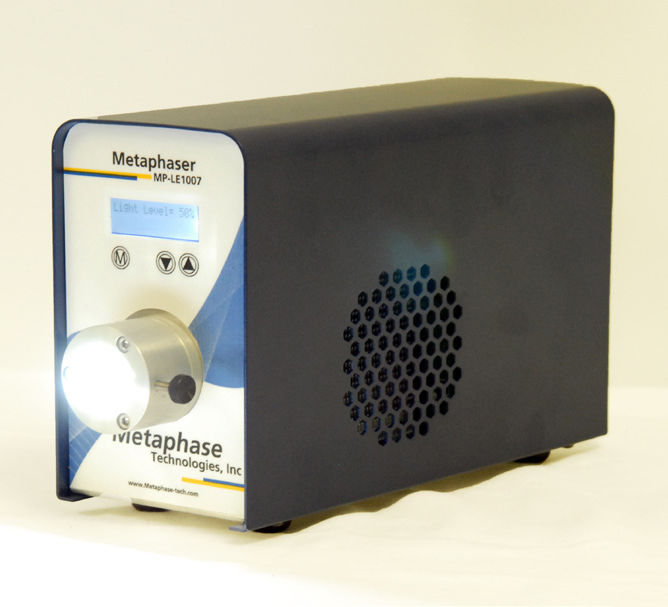 MB-LE1007-W-DC
METABRIGHT LED Light Engine white, 24VDC, DC Mode Only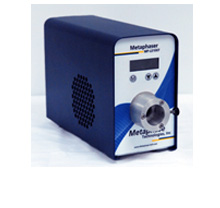 MP-LE1007-G-24
MetaPhaser� LED Light Engine Green, 24VDC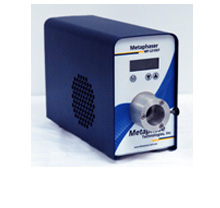 MP-LE1007-IR-24
MetaPhaser� LED Light Engine Infra-Red (850nm), 24VDC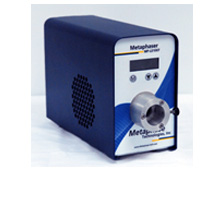 MP-LE1007-R-24
MetaPhaser� LED Light Engine Red, 24VDC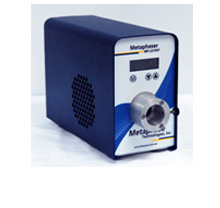 MP-LE1007-W-24
MetaPhaser LED Light Engine White, 24VDC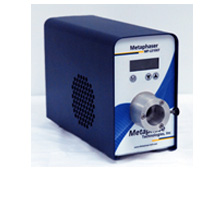 MP-LE1007-W-DC-MX11
MetaPhaser LED Light Engine White, 24VDC, fits EEG2823 Dual Gooseneck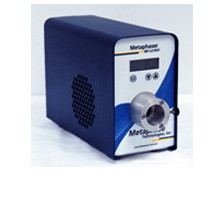 MP-LE1007-W-ST-VL4
METAPHASER LED LIGHT ENGINE, WHITE LEDS, STROBE VERSION, MIN PULSE WIDTH 2us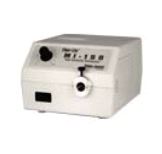 MI-150W
150 Watt, 115 VAC, 60Hz, EKE Lamp, 0.590 ID nose piece (B), With Remote on/off footswitch Contro